When a great opera singer is at the top of the food chain, everyone wishes to criticize!  Naturally this is good.  We should have an opinion and if we have real reasons for our opinions we should state them and hopefully our criticism will be constructive instead of jealousy-ridden and destructive.  As I begin to work out the final details of my own tenor voice coming from baritone, I grow more and more respectful of this great artist.  No I do not think he is perfect. No one is!  I prefer this post to be about a few of his great attributes.  If there is a full-voiced tenor who can top him in these categories, then he would probably be the one everyone is seeking out.  None of us who is not doing this on a daily basis can possibly understand the expectations for a singer of this level.  In a period in operatic history that is defined by rushing and superficiality, Kaufmann is able to meet the demands of the market and remain a superior musical and dramatic artist to rival some of his greatest predecessors.  I am a fan and every time I hear him live, I feel I have something to work on in the practice room.  He is a multi-faceted singer who embodies opera in as complete a way as we can possibly hope for.  Whether it is his excellent diction, or his legato, or his movie-star good looks or his profound interpretations, everyone can find something they enjoy in his performances.  Keep challenging yourself Mr. Kaufmann and challenge us in the process!
Here are my 10 top reasons why Jonas Kaufmann is the world's top tenor!  My apologies to the other great tenors I love!  They know who they are!
10.  The most varied repertoire since Placido Domingo.
9.  Looks of a movie star.  The kind attributed to his predecessor Franco Corelli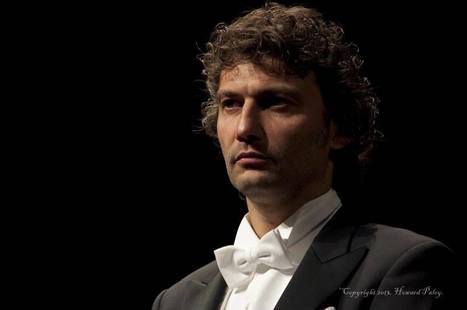 In fact his bone structure reminds of Corelli
8. He can control softer dynamics anywhere in his range
7. One of the leading Lieder interpreters around today (Honest music making…No tricks)!
6. Morbidezza (elasticity/flexibility)
5.  Excellent French diction (Not a given for a non-French tenor)
6.  Speaks native level English, excellent Italian!
5. A very thoughtful and profound interpreter.  Nothing superficial about his interpretations
4. A very consistent and reliable technique (Above videos demonstrate this)
3. A very comfortable and natural actor who understands how to use the music as impulse without getting into stock gestures or attempting a naturalistic acting style not suited to an operatic environment
2.  The physical constitution to handle a very demanding schedule! Few in the dramatic tenor category have been able to be as consistent in their appearances as he, and he sings song recitals as well as orchestral concerts.  Old School!
1. And of course!  Although his repertoire does not always demand it, he commands a good High C!
© 03/20/2015